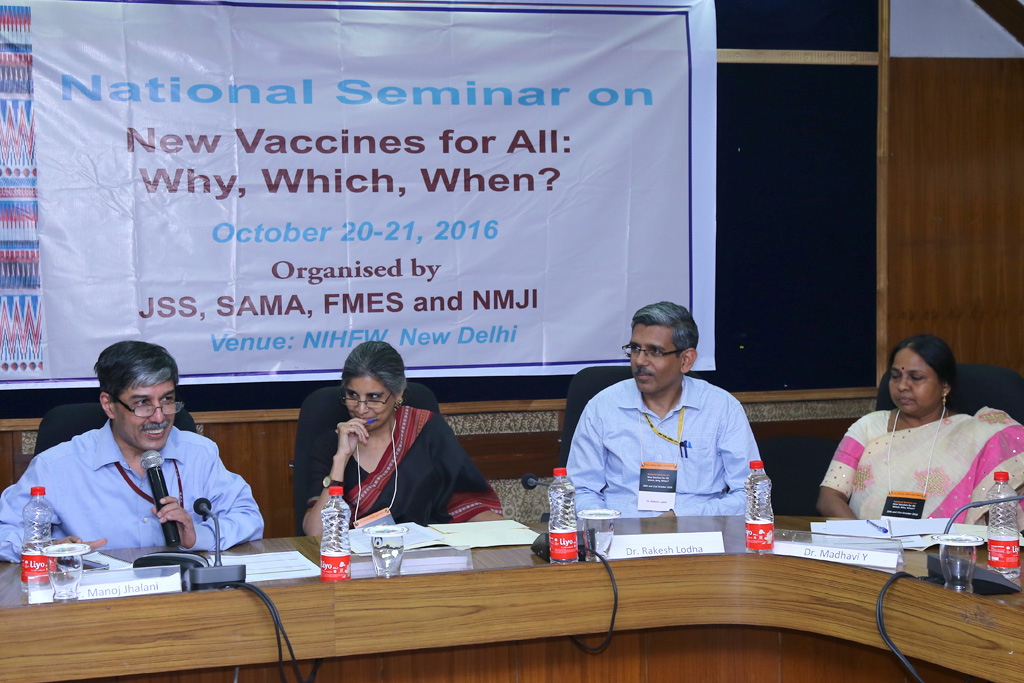 Prof. Vinod Paul (AIIMS), and Dr. Rakesh Lodha (AIIMS), Dr. Madhavi Y. (NISTADS) spoke on issues concerning interventions and priorities with regard to vaccines.
The criteria like potential impact, safety, comparison with other approaches to avert morbidity/mortality, cost versus gains, and equity lens with regard to its outreach to the poor, should be considered while prioritizing on including new vaccines. The importance of assessing the impact of the vaccine in terms of prevention of morbidity and mortality was raised.
In cases where burden of disease data is not available, data from neighbouring areas can be extrapolated to understand the effectiveness of the vaccine. Moreover, the macro level questions regarding the health system, like, the availability of funds, human resource, delivery systems like cold chain, how it will be phased out and how to address the adverse events following immunisation (AEFI), are to be considered as well.
The social determinants of health are important to understand holistic picture of disease control, as vaccine is a part of this process. Health is not limited to healthcare provision only; rather it is an outcome of individuals' response to society, community, social position and environmental condition they live in. Healthcare contributes between 15-40 percent of factors driving health and health behaviour.
Inequity invariably impacts health as the poor have less access to resources and higher exposure to risk factors. The global disability adjusted life years data (DALYs) shows that contributing risk factors for poor health outcomes are lack of nutrition, hygiene and occupational risk among others. In India too, changes in the multi-dimensional poverty index show increasing rates of morbidity and mortality due to air pollution and child under-nutrition among other factors.
The example of diarrhea aetiology, which indicates how the process of treatment has to be a combination of vaccine introduction and changes in environmental and social situations like hygiene, hand washing and better nutrition. For introduction of vaccine, annual investment may be small but the same has to be sustained. Comparing the WASH initiative versus vaccine introduction for diarrhea, he stated that the decision making should take into consideration whether there is need for integration across systems, first to ensure better hygiene and sanitation which may raise vaccine efficacy.
Today the mode of vertical programs, lack of integration across ministries like MoHFW has no control over water supply, leads to a loss of the holistic approach to ensure better health outcomes through a more consolidated approach. Though we cannot wait for all social determinants of health to improve, some health interventions may work better if they do. So there is need to introspect why a pro-vaccine debate is heard more than the social determinants argument. For example, why is safe water still a problem in India that needs to be critically questioned.
The role of vaccines instead of being seen as opposed, it can be seen as supportive and there is a question for us to decide about; with low or high resources, whether the intervention and disease control should be done sequentially.
It was suggested that non-vaccine interventions and vaccine interventions should be done together but would only be possible with larger budgets.
The following presentation on balancing priorities in vaccine policy discussed that vaccines should be safe, affordable and accessible. They should work against the local pathogen specific to certain population or geographical area. For this, one needs to know what the real burden of disease is. Based on this, the decision should be taken on which vaccines are to be introduced in the UIP to address uniform disease burden and which ones should be introduced selectively only for local endemic diseases.
In addition to ensuring affordability, there should be promotion of local production of vaccines and the bulk production at Public Sector Units (PSUs). The logic guiding the introduction of vaccines should be rooted within the disease burden. The logic of introducing combination vaccines was questioned; is it based on business logic or does it stem from medical logic i.e., response to the burden of disease.
Grave concern exists about the scenario in India today where there is a proliferation of new vaccines and orphanisation of old vaccines, simultaneously. There is a withdrawal of the public sector from vaccine production in the post TRIPS period so the government has to procure vaccines at a high price from the private sector, distorting the supply.
This impacts access and affordability of vaccines. It was conclusively submitted that there is a demand supply gap in the UIP currently, which can be mitigated by promotion of public sector production. A strong case was made during the discussions for ensuring facilities for vaccine production before we think of new vaccines.
Another issue that displayed a growing concern is that of combination vaccines where the safety of the combination vaccines is not clearly determined.
Highlights from the Seminar Sessions
Session I: Present Status of Children's Health and Vaccination
Session II: Prioritisation of Interventions for Disease Prevention
Session III: Inclusion of new vaccine in the UIP: How effective are new vaccines?
Session IV: Inclusion of new vaccine in the UIP: Risk assessment and safety of vaccine
Session V: Ethics and Regulations
Session VI: Inclusion of new vaccine in the UIP: Cost effectiveness and Financial issues
Session VII: Inclusion of New Vaccines in the UIP: Health System Preparedness
Recommendations
Annexures
Annexure 1: Background Note of the Seminar
Annexure 2: Seminar Schedule
Annexure 3: Organisers of the Seminar
Annexure 4: List of Participants