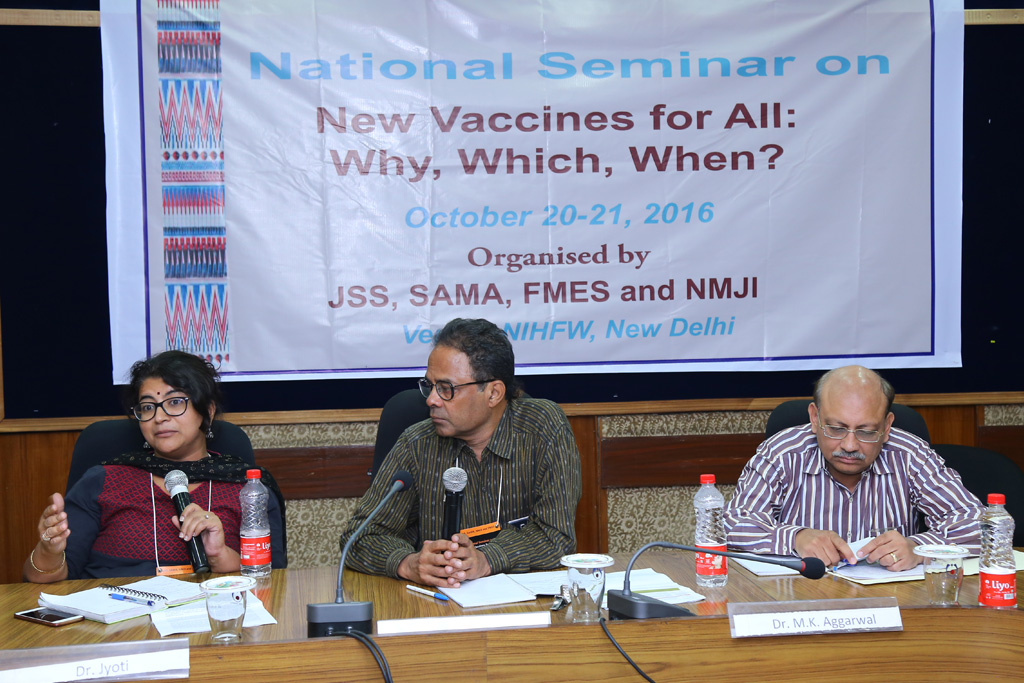 Dr. Jyoti Joshi (ITSU,PHFI) and Dr. M.K. Aggarwal (MoHFW) presented on the robustness of the public health surveillance to monitor AEFIs and on health system preparedness for introducing new vaccines.
Any new vaccine introduction in India follows a systematic procedure and is an informed evidence based policy decision. It is based upon a comprehensive review of existing evidences, programmatic challenges and system preparedness. A multi-level consultative process is followed with key stakeholders.
In the pre-introduction stage of a new vaccine, capacity building is undertaken for various health cadres towards building awareness and refreshing their knowledge about the entire immunisation programme. Detailed micro-plans are prepared and updated regularly providing details of session date, site, vaccinator name, etc. which are revisited and updated with the introduction of every new vaccine.
Before introduction of any new vaccine, a complete communication plan is developed to ensure that the message of new vaccine as well as other vaccines under UIP reaches the beneficiaries.
Every new vaccine introduction is followed by a Post Introduction Evaluation (PIE) after 6-8 months of rollout. PIE is based on a global tool used to assess the preparedness, strengths and weakness of new vaccine introduction. PIE reports are publicly available and supports govt. in further streamlining efforts toward a well prepared system.
Public health surveillance is the ongoing systematic collection, analysis, and interpretation of data, closely integrated with the timely dissemination of these data to those responsible for preventing and controlling disease and injury. The purpose of surveillance is to empower decision makers to manage more effectively by providing timely, useful evidence. Like for drugs, vaccines also require a surveillance system that can capture any untoward cases.
There are at least three general types of surveillance systems that can be applied to monitoring and management of AEFI and vaccine safety: Passive Surveillance which requires the population or healthcare workers (HCW) report any condition that they believe could be associated or related to a vaccine event; Stimulated Passive surveillance similar to passive surveillance but in which the system encourages the reporting of events in the community or at the HCW level; and Active Surveillance which involves systematic search for defined AEFIs in specific populations to try to determine the scope and the true incidence of the events.
An AEFI is any untoward medical occurrence which follows immunisation and which does not necessarily have a causal relationship with the usage of the vaccine. The adverse event may be any unfavorable or unintended sign, abnormal laboratory finding, symptom or disease. AEFI may not be causal but there is always a temporal relation. Through a robust surveillance net it is possible to capture AEFI at hospitals, clinics, community (through health care workers) in order to examine whether it has a consistent causal relationship.
The Universal Immunisation Programme (UIP), the Pharmacovigilance Programme of India and the Central Drugs Standard Control Organisation (CDSCO) are important data sources for monitoring vaccine safety.
Need to create enabling environment for AEFI reporting involving treating clinicians, formal and non formal health practitioners. State and district level capacity to be improved to conduct timely investigation and assessment. Awareness of the concept of AEFIs among clinicians and reporting to public health program needs to be strengthened.
Highlights from the Seminar Sessions
Session I: Present Status of Children's Health and Vaccination
Session II: Prioritisation of Interventions for Disease Prevention
Session III: Inclusion of new vaccine in the UIP: How effective are new vaccines?
Session IV: Inclusion of new vaccine in the UIP: Risk assessment and safety of vaccine
Session V: Ethics and Regulations
Session VI: Inclusion of new vaccine in the UIP: Cost effectiveness and Financial issues
Session VII: Inclusion of New Vaccines in the UIP: Health System Preparedness
Recommendations
Annexures
Annexure 1: Background Note of the Seminar
Annexure 2: Seminar Schedule
Annexure 3: Organisers of the Seminar
Annexure 4: List of Participants