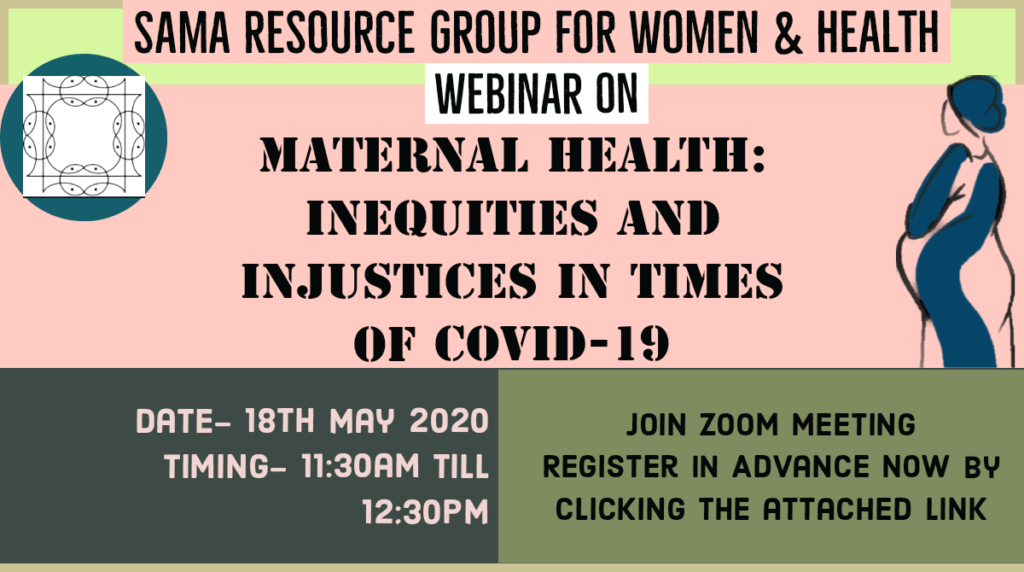 Please join the Webinar, "Maternal Health: Inequities and injustices in times of COVID-19" on 18 May, 2020 at 11:30 am by Sama Resource Group of Women and Health.
In the context of COVID-19, the health system's response with regard to the essential services for women's health care has been weak and arbitrary. The situation of lockdown has raised serious concerns about ensuring safe, timely and quality maternal health care at the community level.
Discontinuation of ANC care or barriers in accessing institutional facility for delivery care, among many more, are immediate issues that are being reported at the community level. We read many reports everyday about how a woman in full term of her pregnancy had to walk over 1,000 km on foot to reach her hometown to cope with the distress caused by the pandemic and the lockdown, or her delivering on the road side, and similar such experiences.
Such incidents reflect how existing inequities and vulnerabilities have increased the distress of marginalised women because of various barriers induced by the lockdown. Further, the discontinuation of transport facilities and non-availability of health services are posing additional risks to the health and lives of pregnant women.
The speakers will highlight and discuss the inequities and injustices in times of COVID on pregnant women.
You are requested to join by registering yourself for the webinar through this link.