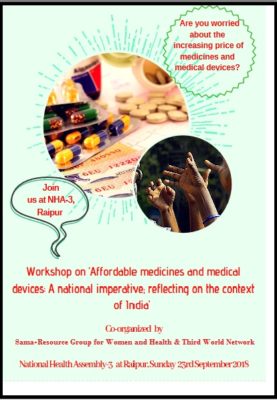 As we are all gearing up for participating in the National Health Assembly-3 at Raipur on 22nd and 23rd September 2018, we are glad to share about the Workshop on'Affordable medicines and medical devices: A national imperative; reflecting on the context of India'being co-organized by Sama-Resource Group for Women and Health along with Third World Network.
We are happy to invite everyone to this workshop on 23 September 2018 between 2 pm to 4.30 pm at the National Health Assembly, in Raipur, Chhattisgarh. The workshop will focus on emerging challenges and barriers to access to medicines and will touch upon issue relating to global trade rules, international pressures as well as consequent actions/inactions by government to curb prices, monopolies and encourage research and development.
We will keep you posted with the venue and other details. Hope to see you all at NHA-3 at Raipur!