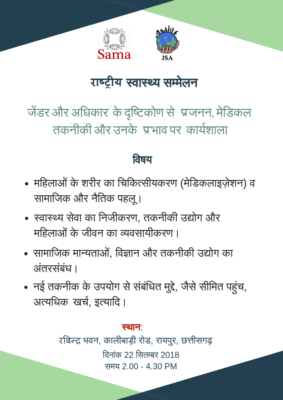 Sama Resource Group for Women and Health is delighted to announce a workshop on 'Medical and Reproductive Technologies from Gender and Rights Perspective', on Saturday, 22nd September, 2018 between 2 pm to 4.30 pm, as a part of the 3rd National Health Assembly, Raipur.
This workshop will seek to explore the social implications of modern medical and reproductive technology on the lives of women across the country.  With discussions ranging from emerging medical technology, privatization of health care, and commercialisation of women's lives, this workshop will focus on the issues at hand from the lenses of public health, gender and rights.
For any further information, please contact us at: sama.genderhealth@gmail.com
We look forward to seeing you there.